A year ago, the Russian invasion of Ukraine began. It was the beginning of a wave of devastation across the country.
Houses have been destroyed. Essential services have been hit. Families have been separated. People have been injured. Lives have been lost.
Almost 14 million Ukrainian people fled their homes – terrified and not knowing where they'd sleep or get their next meal.
What's the current situation in Ukraine?
The winter has been particularly harsh. Many people in Ukraine are without heating or electricity because of the damage to the country's infrastructure. But with temperatures falling below zero and increased shelling because of Ukraine's counter-offensive, people are now facing even more hardship.
Women and girls
The conflict is tearing families apart. Mothers have had to make tremendously difficult decisions – with millions feeling that their only choice is to leave and uproot their children from school, while male family members stay behind to be conscripted.
With many hospitals destroyed, pregnant women also face giving birth without access to maternal healthcare. Some even have to give birth in underground metro stations. There's also been a significant increase in the need for maternal mental health services.
Children
Suddenly without their homes, schools or families, many children's lives have changed forever. Many have had to flee fighting and see relatives drafted into military service. Some will have witnessed traumatic acts of violence or been caught up in shelling or air strikes.
Schools have been occupied or damaged in the conflict and around 350,000 school-aged children currently have no access to education.
Their health and development will also be affected by a lack of access to nutritious food, clean water and safe, warm shelter.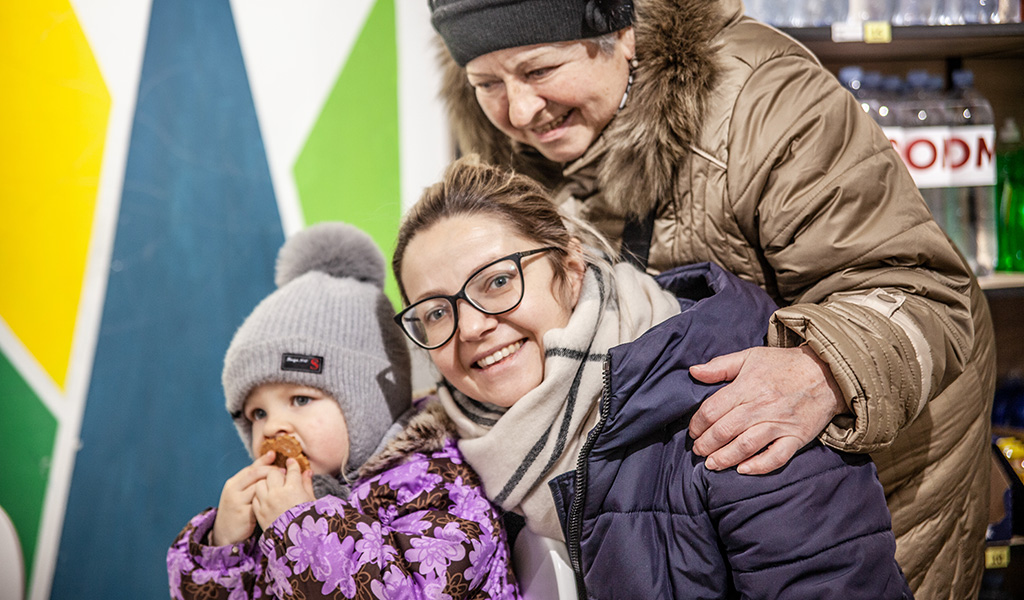 Natalia, Valentyna and Natalia's daughter at the refugee dignity centre supported by Action Against Hunger in Chisinau, Moldova. Photo credit: Action Against Hunger/ Elisa Bernal Arellano
Older people
Many older people have been forced to stay at home because of health or mobility problems. Unable to escape, they're left completely isolated and often find it difficult to take shelter from danger.
It also means they have very little support and can't get essentials like food or medicine.
How is Action Against Hunger helping in Ukraine?
We've been working hard to reach as many people as possible with food, shelter, water and cash. And since the conflict started, we've supported more than 650,000 people in Ukraine and neighbouring countries.
We were able to start helping people so quickly thanks to the support of our local partners – who have been crucial to our response.
Thanks to the generous support of the UK public, including those who donated to the DEC's Ukraine Humanitarian Appeal, we've helped people by: 
distributing winter essentials, like warm jackets, blankets and fuel
providing hot meals with local partners in Kharkiv, Dnipro and Zaporizhzhia
supporting healthcare facilities
repairing homes and shelters
enabling them to heat their homes with generators and power banks
creating mother-and-baby-friendly spaces for parents who fled violence
giving them cash so they can buy any essentials they need

Svitlana, a psychologist at the Here and Now mental health project, supported by Action Against Hunger, in Chernivtsi, Ukraine. Photo credit: Action Against Hunger/ Catianne Tijerina
Supporting Ukrainian refugees in Moldova
It's estimated that 7.8 million people have fled Ukraine since February 2022, with over 100,000 refugees arriving in neighbouring Moldova – the poorest country in Europe.
As well as the trauma felt while being forced to leave their homes, Ukrainians now living in Moldova are facing economic hardship. Moldova relies heavily on imports from Ukraine and Russia for its food and energy supplies, so the conflict has significantly increased prices for both refugees and host communities.
Every month we're helping 4,400 people at a refugee dignity centre in Chisinau, Moldova, where they can get essentials like food and toiletries.
Refugees register online and are then able to pick €7 worth of items per person, including essentials like milk, vegetables, snacks, nappies and other hygiene items. They can then return every two weeks.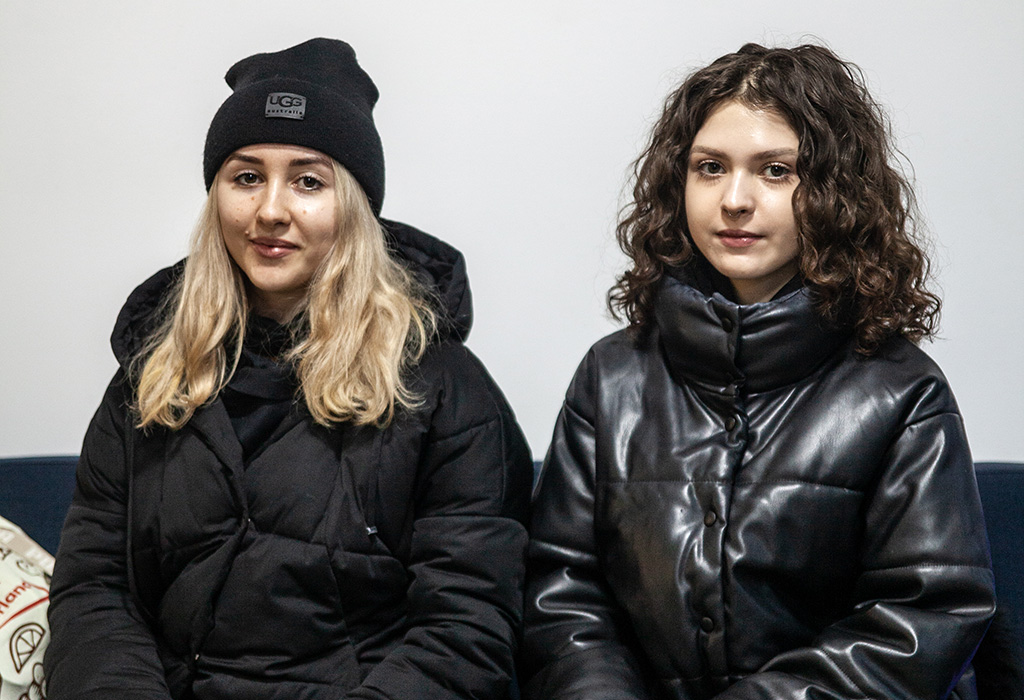 Diana and Kristina, two Ukrainian women at the refugee dignity centre supported by Action Against Hunger in Chisinau, Moldova. Photo credit: Action Against Hunger/ Elisa Bernal Arellano