In 2020 more than two billion people woke up each morning unsure if they would have enough to eat that day. They were facing food insecurity.
Food insecurity is when a person cannot guarantee a steady, daily supply of safe and nutritious food to live an active and healthy life.
Poverty is often a major cause of food insecurity. But even though the world produces enough food to feed the entire population, four out of ten people across the globe can't afford a healthy diet.
Access to food can be a problem. Having access to enough food means having money to buy that food and it means being able to get to the food supply safely – be that in a market or on your own land.
Conflict and violence can stop people getting to food supplies, while climate change and natural disasters can reduce the food supply. Reducing the supply means prices go up. When you have little money, this becomes a big problem.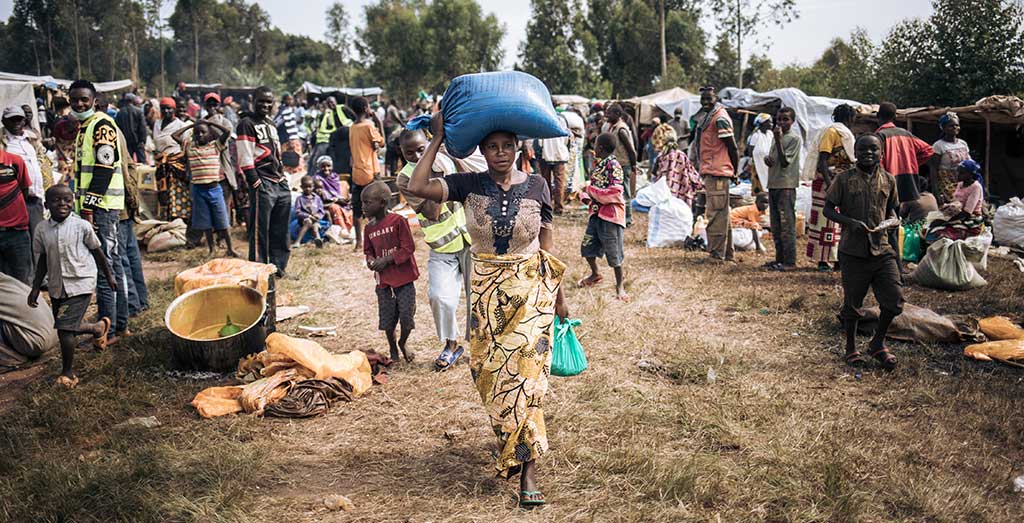 A food fair organised by Action Against Hunger in Ituri province, Democratic Republic of Congo. Conflict has caused widespread hunger in the region.
Some countries experience poverty and food insecurity more than others. The South Asia region alone will need to create more than 13 million jobs every year to keep pace with population growth. In Sub-Saharan Africa, 15 million jobs will need to be created each year.
As the move from rural to urban areas continues, huge numbers of people moving into cites are searching for work. Many don't come with the skills, training or education to find well-paid work. And not having a good job puts already vulnerable people at risk – particularly young people, women, immigrants, older people and the long-term unemployed.
It often leads to a downward spiral of despair. Families and individuals start by cutting back on clothing, furniture and leisure and then, over time, cutting back on nutritious and varied food and then cutting back on food altogether.