The humanitarian crisis caused by the conflict in Ukraine is getting worse in Moldova and its borders with Ukraine. The situation in the border town of Palanca is becoming even more complicated because of the large influx of refugees. But this is just one of the places on Moldova-Ukraine border where Action Against Hunger's emergency teams are working.
More than 250,000 refugees have entered Moldova since the start of the conflict and around 100,000 remain in transit centres. The delicate situation in the nearby Ukrainian city of Odesa (the country's third largest city) could end up overwhelming Moldova. Many are already arriving from the nearby city of Mykolaiv.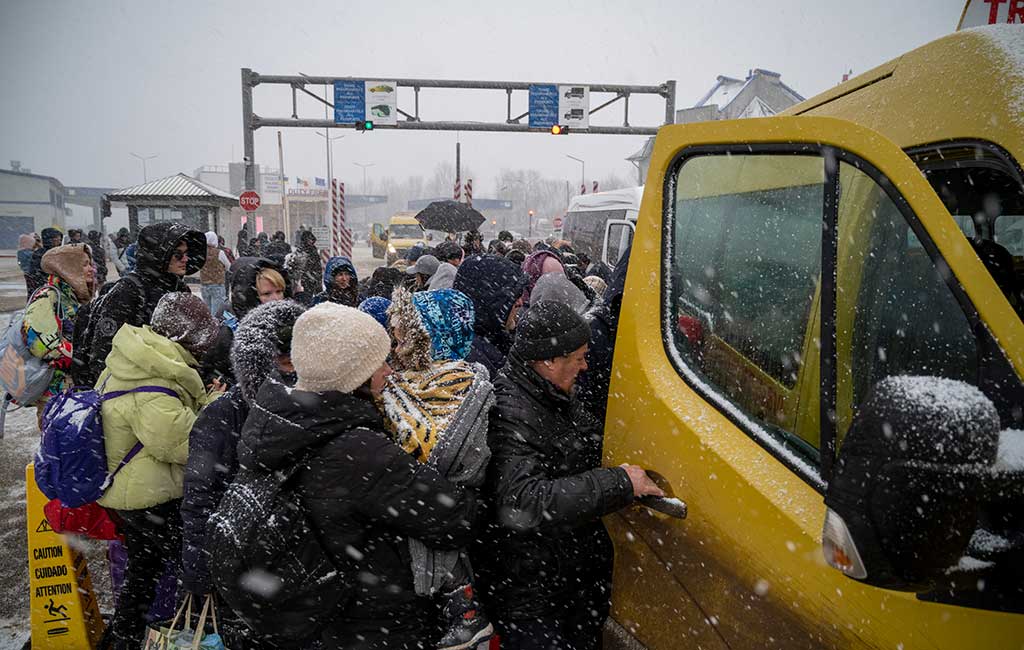 People try to board a bus in the snow at Palanca on the border between Ukraine and Moldova. Photo credit: Action Against Hunger/ Gonzalo Höhr.
Working on the Moldovan borders and in refugee centres
With a population of 2.6 million, Moldova is one of the poorest countries in Europe. It's receiving the most refugees per capita than any other of Ukraine's neighbours at four for every 100 residents.
Action Against Hunger's emergency teams have been working in Moldova and its borders with Ukraine for more than two weeks.
"At the border we're going to work on both sides – on the Moldovan side and in Ukraine itself," says Noelia Monge, head of Action Against Hunger's emergency team.
"On both sides there is a waiting area for refugees where we are going to install a tent to provide services to those waiting to cross and those already in Moldova waiting to be placed in a centre. As it's very cold, we will install some heaters and we'll provide hot food and drinks as well a space for breastfeeding."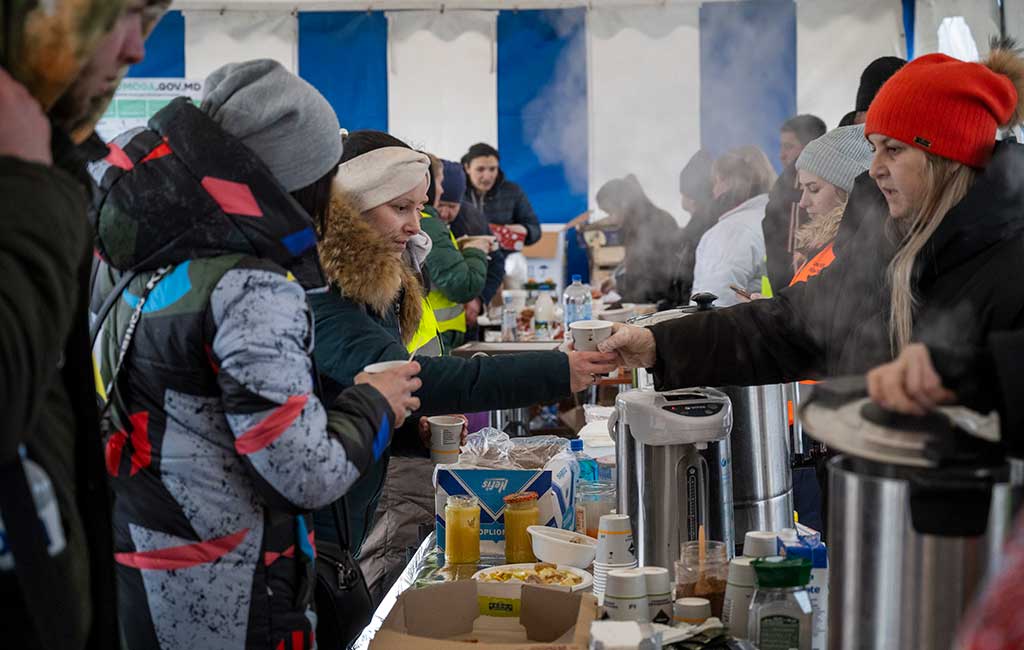 Volunteers serve hot food and drinks to Ukrainian refugees in Palanca, Moldova. Photo credit: Action Against Hunger/ Gonzalo Höhr.
Collaborating with local partners in Moldova
One of the keys to our emergency response is working with local partners – which allow us to be much more effective.
"We're working with local organisations, such as Concordia, who have been working here for many years and has great knowledge of the area," says Noelia. "We're complementing each other well because they don't have many resources or much experience in emergency response, which is what we can provide."
Working with local partners, Action Against Hunger are providing food, hygiene kits and baby formula to Ukrainian refugees at the border.
We have also launched a partnership with Éxitus to help children leave Ukraine safely and to support the purchase of vans that can deliver food to strategic places within Odesa.
Our teams are also providing hot meals to Ukrainian refugees arriving at the border in Palanca and have installed heaters and electric outputs to give refugees a place to warm up and charge their phones. We will also install bio-organic toilets and hot showers in the days ahead.
How Action Against Hunger is responding
The situation in Ukraine couldn't be any more serious. It's estimated that almost 4 million Ukrainians may have to leave their country and that 12 million people in Ukraine are in need of humanitarian aid.
In Ukraine, Moldova, Romania, and Poland, Action Against Hunger are planning our longer term emergency response.
In Ukraine, our top priorities are to provide mental health support, strengthen the healthcare system, support local traders to ensure access to essential goods, provide emergency cash assistance, and support supply chains so that medicines and other essentials reach areas of active conflict.
In neighbouring countries, Action Against Hunger plan to support refugees by improving access to safe toilets and showers, providing clean water and distributing meals and basic items such as beds and blankets. We also plan to provide mental health support, set up child-friendly spaces, and give emergency cash transfers to vulnerable families.
Please note: this article was first published on 9 March 2022 and updated on 18 March 2022